I would like to honour here the late Alfredo Marcucci without whom all this would not exist and who influenced drastically my life as a musician and as a person.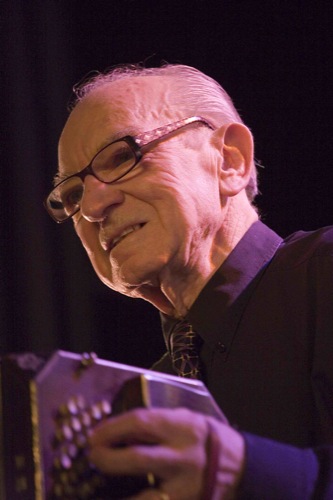 Alfredo Marcucci
After an intense career with the largest Argentine tango orchestras in the 40s and 50s, the Argentinian bandoneon master Alfredo Marcucci settled in the 60s in Flanders. He was also a regular member of "Los Paraguayos" in the 60s and 70s with which he won several gold records over the years and enjoyed worldwide success. He has also been at the basis of the revival of the Argentine tango music in Europe in the early 1980s thanks to the support of Dirk Van Esbroeck and Juan Masondo with whom he founded the ensemble Tango al Sur. In the early 1990s he taught bandoneon and tango music in Neufchâteau and Brussels. He founded the Belgian Veritango orchestra with which he toured Europe until shortly before his death in 2010.
His family donated the instrument to the MIM in Brussels where it is still a "Must go and see".
We remember Alfredo Marcucci as a very modest, generous and warm personality. He could also express these traits masterfully in his music.